HOW TO PURCHASE GOODS FROM TAOBAO
We know the struggle of opening up the Taobao site only to give up after getting overwhelmed by the information that's stopping you from completing your purchase. Taobao is a true online treasure trove – you can literally get anything here from furniture to jewelry, furniture, snacks, all sorts of knick-knacks, even things you never knew you needed (or never knew existed). The downside of this? Everything is in Chinese, and it's an impossible struggle for those who can't read the language. If you can't read Chinese yet have always been hoping to try shopping on Taobao, you're in the right place. Learn how to shop on Taobao with our step-by-step guide, and you'll be a Taobao pro by the end of the article, even if you're a banana!
Step 1: Browse through TaoBao Website 💻​
First of all, you will need to access TaoBao website on your Google Chrome browser by keyword or URL (www.world.taobao.com). For those could not understand Chinese, you can simply open up the Google Chrome page translation function on the top right corner. Once you are done, you should able to get your page translated to English or any other language that you prefer.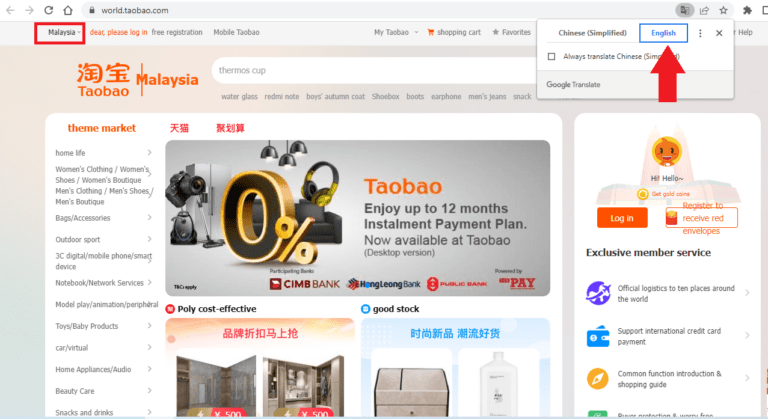 Step 2: Register TaoBao Account
Account registration is pretty straightforward on Taobao – spot the button to register for a new account on the upper right-hand side of the website. You will have to key in your phone number and verification code to create a new account, everything else is quite standard.
Step 3: Search for Goods / Enquiry ​
Once you have your account set up and logged in, it's time to fill up your cart! Just like in other e-commerce websites, look for the items you would like to purchase with the search bar. Also, TaoBao allows customer to directly communicate with the seller about the product details, shopping experience etc. 
When you find products you would like to purchase, add them to your cart. Even if you are not sure whether you would like to buy something, you can still add it to cart and remove it later on before checking out!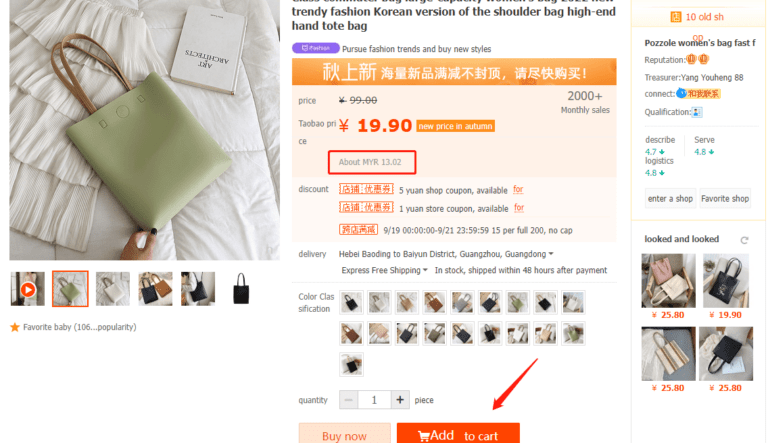 ⭐ If you want to do parcel consolidation on goods, we do have an articles explaining on how to import your goods from China to Malaysia. You may click the button below to check it out!
The following link would be a tutorial regarding on how to purchase from 1688. If you are interested, you may click the button below to see more details: