Importing Digital Signage from China to Malaysia: A Comprehensive Guide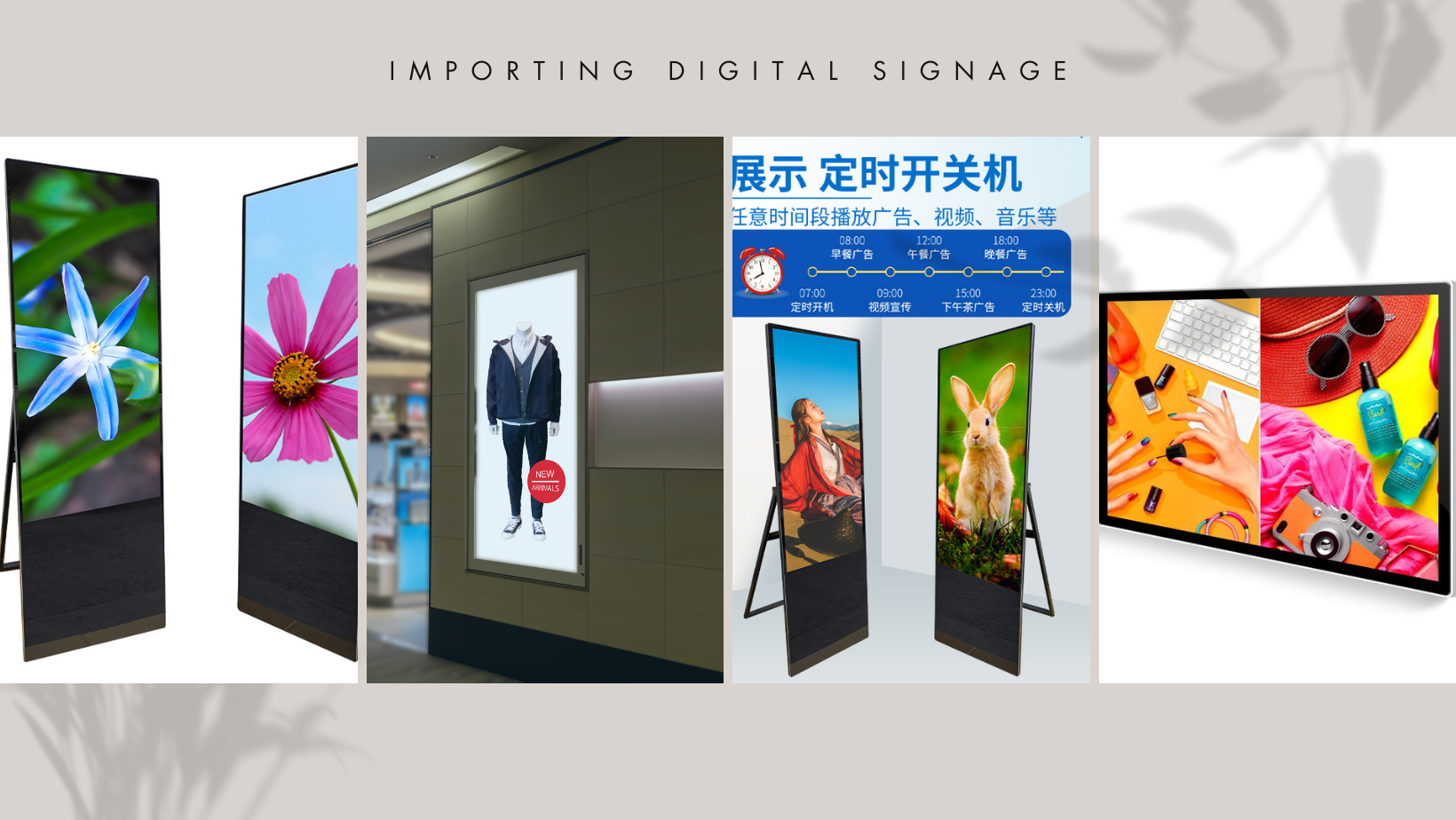 In today's technologically advanced world, digital signage has become an integral part of businesses, providing an effective way to communicate messages, showcase products, and engage with customers. If you're considering importing digital signage from China to Malaysia, this comprehensive guide will walk you through the process, highlighting the key steps, precautions, and services offered by CIEF Worldwide Sdn Bhd to ensure a seamless and cost-effective experience.
Unleashing the Power of Digital Signage
Experience the captivating world of digital signage – from large outdoor LED screens to interactive kiosks and video walls. These advanced displays empower businesses to engage customers, promote products, and deliver information in visually appealing ways. Explore the power of modern electronic displays to enhance customer experience and convey messages effectively.
The Benefits of Importing Digital Signage from China
China has emerged as a global leader in digital signage manufacturing, offering a wide range of high-quality products at competitive prices. By importing digital signage from China to Malaysia, businesses can unlock several benefits, including:
Cost Savings

: Chinese manufacturers often provide cost-effective solutions due to their advanced production capabilities, economies of scale, and access to affordable raw materials. This translates into significant cost savings for Malaysian businesses.

Technological Advancements

: Chinese manufacturers are at the forefront of technological innovation, constantly pushing boundaries to improve the functionality, performance, and visual appeal of digital signage. Importing from China allows businesses to access the latest advancements in the industry.

Diverse Product Range

: Whether you require large outdoor displays for advertising purposes or interactive kiosks for engaging customers, China offers a diverse product range to meet your specific needs. With numerous options to choose from, you can find the perfect digital signage solution tailored to your requirements.

Quality Assurance

: Chinese manufacturers maintain stringent quality control processes to ensure that their products meet international standards. By partnering with reputable suppliers, such as CIEF Worldwide Sdn Bhd, you can rest assured that the digital signage you import will be of top-notch quality.
The Importing Process: Step-by-Step Guide
Importing digital signage from China to Malaysia involves a series of steps that should be carefully followed to ensure a smooth and hassle-free experience. Let's delve into each of these steps and shed light on the precautions to take along the way.
Step 1: Product Selection and Finding a Reliable Supplier
Before initiating the importing process, it's crucial to conduct thorough research and identify the specific digital signage product that aligns with your business requirements. Consider factors such as display size, resolution, connectivity options, and software compatibility. Determine the features that are most important for your intended use and select a product that meets those criteria.
Once you've identified the digital signage product you wish to import, it's time to find a reputable supplier in China. This is a crucial step as it determines the quality of the product, timely delivery, and overall customer experience.
Step 2: Packaging and Shipping Precautions
Packaging plays a vital role in safeguarding your digital signage during transportation. Depending on the specific product and its fragility, it is essential to consider the following precautions:
Protective Materials: Ensure that the digital signage is securely packed with appropriate padding materials, such as bubble wrap, foam, or cushioning inserts. This will prevent any damage caused by shocks or vibrations during transit.
Waterproofing: If your digital signage is intended for outdoor use or may encounter moisture during transportation, waterproof packaging is necessary to safeguard the sensitive electronic components.
Customized Crating: For larger displays or delicate installations, consider using customized crates or wooden boxes to provide additional protection and stability during shipping.
CIEF Worldwide Sdn Bhd, with their expertise in logistics and packaging, can guide you on the most suitable packaging solutions for your digital signage, ensuring it arrives in pristine condition.
Step 3: Customs Clearance and Import Duties
As with any international import, customs clearance is a crucial aspect of the importing process. When importing digital signage from China to Malaysia, you need to adhere to the customs regulations and fulfill the necessary documentation requirements.
CIEF Worldwide Sdn Bhd, with their knowledge and experience in customs procedures, can assist you in preparing the required documentation, including invoices, packing lists, and import permits. They will ensure that all necessary customs duties and taxes are paid accurately, making the process swift and hassle-free.
Step 4: Money Transfer Solutions
Efficient and secure money transfer solutions are essential when importing digital signage from China. CIEF Worldwide Sdn Bhd provides two reliable transfer methods:
China Bank Transfer: With this method, CIEF Worldwide Sdn Bhd can convert your Malaysian Ringgit (MYR) into Chinese Renminbi (RMB) and transfer the funds directly to your supplier's personal or company bank account in China. This ensures a smooth and secure payment process.
Payment to 1688 Platform Order: If you're purchasing digital signage through the 1688 platform, CIEF Worldwide Sdn Bhd can assist you in making payments without worrying about frozen bank accounts. They provide legitimate local invoices for accounting purposes, ensuring a transparent and reliable transaction.
Step 5: Shipping Solutions
CIEF Worldwide Sdn Bhd offers a range of shipping solutions to cater to your specific requirements. Let's explore the services they provide:
Sea Shipping LCL

: CIEF Worldwide Sdn Bhd offers sea shipping with Less than Container Load (LCL) options. You can purchase goods in small parcels and have them consolidated into one cost-effective shipment, reducing shipping costs. Door-to-door delivery and hassle-free custom clearance are included, ensuring a smooth experience.

Full Container Load (FCL)

: For businesses requiring a dedicated container for their digital signage shipment, CIEF Worldwide Sdn Bhd offers full container load services. They provide guidance on optimizing product HS codes, obtain import licenses, and facilitate a seamless import process.

Air Shipping LCL

: CIEF Worldwide Sdn Bhd also offers air shipping with LCL options for those seeking faster delivery times. Small parcels can be consolidated into one shipment, reducing costs while maintaining the efficiency of air transportation.
Conclusion
Import digital signage from China with ease. CIEF Worldwide Sdn Bhd offers comprehensive services, including sea and air shipping, money transfer solutions, and more. Rest assured your signage will be sourced from reliable suppliers and delivered to your doorstep in Malaysia, all handled with expertise in customs clearance and logistics. Focus on growing your business while we handle the importing process for you.
Take the first step toward importing digital signage from China to Malaysia by visiting CIEF Worldwide Sdn Bhd's: