Do Malaysian importers ever felt that the custom clearance process in China is troublesome and complicated? Most Malaysian importers would choose to hire freight forwarding companies to handle the issue of clearing China customs for them due to various reasons. For example, communication barriers, sophisticated procedures and troubles in handling custom clearance documents. However, Malaysian importers should learn more about this custom clearance process in China before handing it over to others.
Many importers came across the professional import term "EXW" (Exwork). Not to mention, we explained three must-know importer professional terms in our previous blog at CIEF. For instance, EXW means that the China supplier is only responsible for packing your goods, while you have to handle the rest of the import process. Starting from picking up your goods from the China supplier's warehouse to loading them into a container and send for custom declaration. Are you still confused about the exact procedures of custom clearance after this short brief? Today, we will explain the process and required documents for custom clearance in China in details!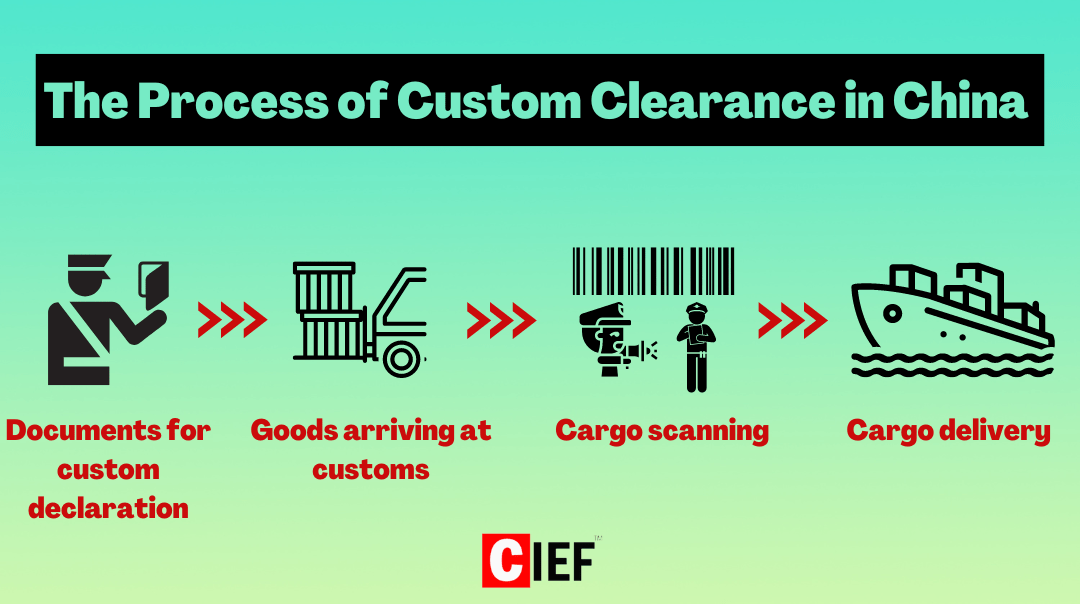 Documents for custom declaration
The first thing to do is the most crucial yet complicated step: preparing documents for custom clearance. The following are the documents required for declaration: 
Purchase contract

Purchase invoice

Packing list of goods

Cargo list

Bill of Lading

Authorization agreement for custom declaration agency

Import and Export License

Other relevant documents required by the General Administration of Customs
The above documents must be declared truthfully, and you must fill in the information carefully to ensure that they are correct, to avoid rejection or deductions during the approval process.
Goods arriving at customs
Furthermore, the next step is to pick up your goods from the China supplier's warehouse, load them into a container, and deliver it to the China customs for custom declaration. Once your goods arrived at the customs, the verification process of your declaration documents of goods and personal information will begin.
Cargo scanning
At this stage, the customs will perform an X-ray inspection on each package, unpacking some goods for inspection if necessary. The customs has the right to inspect your goods, undergo re-inspection or take samples from your goods. The recipient or sender must be present when the goods are requested to open for inspection. In the event that the two are unable to attend, an agent with the authorisation agreement can act as representative and assume corresponding responsibilities.
Cargo delivery
Once the declaration documents are verified, the goods are not tax-related and not under open inspection, they will release them for cargo delivery. Mind that the duration of the whole custom declaration process depends on the circumstances.
Conclusion
Do you have a better understanding of the importance of a reliable logistic company agency? Choosing the right company to handle your import process saves you from lots of troubles. Our company provides professional agency services to deal with customs declarations and other related matters. We ensure you have a smooth and easy import process.


Visit the following links to explore CIEF's services in more detail: