When you import goods from China and you are thinking about writing your name on the Consignee K1 Form. If you are planning to do it, you might want to give a second thought. Let's take a look, shall we?
K1 Form
The purpose of a K1 form is to let customs to check the list of import goods. The reason is that in the container there might be a few other shipper goods pack together inside the shipment container. So, a sea freight shipping company will use their company's name to put on the K1 form.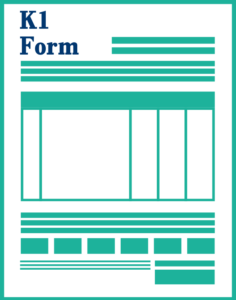 But why there are some people who still want to put their name on the K1 Form? The reason is simple enough, they need the K1 Form for accounting purposes. Though, you can skip all the hard parts if you use a professional sea freight company to do the deed for you.
As an example, our company, CIEF will use our name on the consignee K1 Form. Then, there won't be much of a problem when customs check your goods.  If you use our company's Exchange System, we can provide you invoice for accounting purposes. Now, you can sit back and let us, expert to handle the rest.  What happens if you don't have an invoice and what are the consequences?
Before that, if you haven't registered an account. Please click – Register Account You can directly use our services in the future.💁