Managing the documents of import and export customs are always the problems the newbie importers faced. There is one question our customer service commonly receives, "What is HS Code?"
So, today, we are here to answer the question regarding the nature and origin of HS Code.
What is HS Code?
HS Code is Harmonized Commodity Description & Coding System, also known as Harmonized System Code. It is a commodity classification and coding system for statistical management of import and export customs, and is considered as a common use system for all the authorities that are related to international trade.
That is to say, HS Code is a standard that is used to unify the commodities classification in the customs of various countries, to classify the commodities, and to determine the corresponding tariff and other management measures. HS Code adopts the standardized international 6-digit code, while the codes which are above 6 digits are customized by each country to correspond to the particular commodities.
HS Code of Malaysia is commonly 9 or 10 digits:
The first 4 digits commodity code is "Header", representing the categories of commodities. This code is globally unified and can be acquired online.
The 5th and 6th digits are "Sub", representing the more detailed commodity analysis. For instance, the material classification, the purposes of using, etc.
The 7th to 10th digits are "Item", the codes which are above 6 digits are customized by each country to correspond to the particular commodities.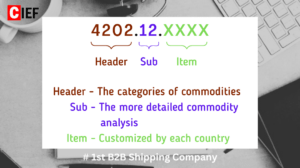 The necessity and significance of HS Code
Based on the latest Malaysian custom regulations, importers need to carry out the classification of commodities in the correct way. Every imported goods from Malaysia must have the accurate corresponding HS Code be filled into all the required documents.
If the classification of HS Code the importers have filled up is incorrect, the error in terms of the tariff and other taxes of the commodity will occur. This will cause the pursuit of tariff or tax payment towards importers regarding the commodity classification error that has made, also lead to a great amount of fine or the impounding of the commodities.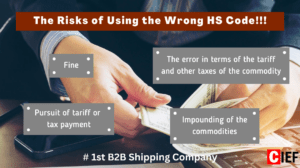 Well, you might ask how to check the HS Code for each commodity?
There will be a detailed tutorial in our next article, showing the way to search your commodity HS Code, with just a simple click here How to check HS Code?
After reading this article, do you have a deeper understanding towards HS Code? Other than this code, the other required documents of import include the Form E, K1 Form, import permit and others are complicated to be prepared. However, by using C.I.E.F services, we will help you in solving the problems and difficulties you've met in importing, and provide you with the most effective import proposal, so that you could have an easy and smooth import experience.
Join us now by clicking this link 👉🏼 Register account
⭐ Consolidation service: Airfreight, sea freight small parcel, sea freight big parcel 👉🏼 CIEF LITE
⭐ Sea shipping service: Full Container Load (FCL), Less than Container Load (LCL) 👉🏼 CIEF